February 13th, 2010
Japan is such an amazing, beautiful and fascinating country, I could definitely see myself living there. I spend 25 days in Japan and for me it was one of the most beautiful experiences of my life. During my holiday I went to Tokyo and Kyoto, both amazing cities and walking around here gives you the sensation of looking into the future. Everything is so organized, clean and impressive that I just gazed around like a kid in a candy store!
My trip to Japan was amazing and I admire their natural beauties, their friendly people and their rich culture so much. You will be impressed by the ancient temples and botanical zen gardens you will find within these buzzling cities.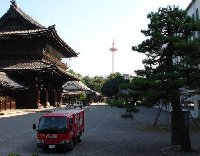 Trip to Japan
Tokyo has a lot of interesting suburbs like the quarter of Ginza, where I stayed at, which is the central hub for all the high end boutiques and more luxurious places. There are also a lot of young suburbs filled with night clubs and bars like Shibuya where you should definitely go to do some people spotting!