September 7th, 2011
While this December I am planning on heading to Dubai for the Christmas holidays last year I spend some time in Japan to visit impressive Tokyo. December might not be the best time to visit Tokyo as you would know simply by searching the internet and it can be rather chilly but never less magic if you ask me.
Most people travel to Japan in either spring or autumn because of the mild climate and the beautiful trees but I actually enjoyed spending my christmas time there!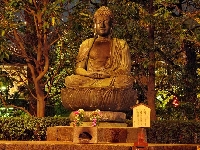 Tourism Tokyo
There are less tourists and the sunsets over Tokyo are breathtaking.
I added some pictures of my trip last year and you will see the contrasts between the winter wonderlands outside of the city centre and the heart of the city which remains buzzing all year long. I would love to return to Japan and how knows maybe it will be next spring so that I can join the crowds staring at the beautiful cherry trees!