September 7th, 2010
Here are some pictures of my holiday in Cuba where I went with my girlfriend. We stayed in Havana, the capital of Cuba, first and from there on we did some road trips to other places like Santa Clara.
In Havana you can stay at a hotel or pousada, a typical Cuban bed and breakfast or guesthouse owned by locals who earn some extra money by letting tourists stay at their house.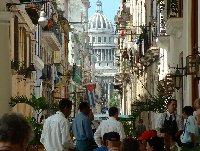 Where to go in Havana
We had booked a room at Hotel Santa Isabel near Plaza de Armas and Old Havana Park, a great location and a very nice hotel to stay in.
Havana is a beautiful city with a very nice hitorical center and a lot of places to add to your Cuba sightseeing list. There are so many architectual masterpieces in Havana and almost all the buildings have impressive baroque facades.
We had a great holiday in Havana and I would like to return there one day as it really is a beautiful city.