February 8th, 2010
In 2001 I went to Cuba for a travel experience I dreamed of for a long time. I wanted to visit Havana, the capital of Cuba ans started my trip there right in the historical centre of the city. Havan is a beautiful place with a beautiful city centre that shows off its colonial past and is way more characteristic then the moden buildings of Havana.
The Museo de la Revolucion deserves a visit and once you're there it's hard to miss the Plaza de la Revolucion dedicated to Che Guevara and the political cente of the city.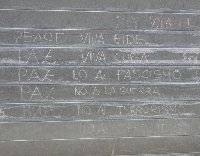 Murals in Havana, trip in..
Fom Havana I travelled to Santa Clara by bus which wasn't that comfortable but not less interesting. Santa Clara is the city where Che Guevara maybe is idealized the most and you will say posters and murals of him all over town. You can't miss the Che Guevara statue in Santa Clara next to his tomb.
After a visit to Santa Clara the bus travelled another 600 chilometers all the way to Trinidad, a fantastic polace with the most stunning beaches and a true caribbean getaway.