February 13th, 2010
After a ten hour flight we finally had arrived in Havana, the capital of Cuba. We dropped our luggage in the hotel and got out to explore the Cuban street life in Havana. Hearing the first tunes coming out of the Cuban bars and walking in the street with the locals we felt home straightaway.
We stayed out all night and after a few drinks of cuba libre and mojito cocktails a new day had begun in Havana. There are so many things to tell about this city but what impressed me the most were the Cuban people.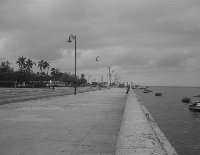 Malecom, Havana's esplanade
For me this trip to Cuba has been an unforgettable experience and it changed the way I at things back home. Seeing how people deal with having to stand in line for rice and flower was heart breaking and puts everything you have in perspective. Not owning or earning much the people in Havana still manage to be happy with what they have or even share it with you. An amazing experience!