March 15th, 2011
Just been to Cuba to visit my sister who lives in Havana and we had a great time acting like tyical tourists :) We stayed for a total of ten days at the hotel resort where my sister works which was all very good.
I had never been to Cuba before and I was really curious to see Havana which is pretty much the centre of Cuban tourism and the commercial heart of the country.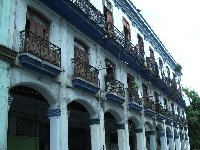 Travel Blog Havana
On the other hand there is a lot of poverty aswell, something that shocked me a little bit because I had never thought the contrasts would be so great.
My sister had filled me in on some of the less nicer conditions she and her family faces every now and then, like finding nothing on the shelves in the supermarkets which is normal in Cuba.
Tourists on the other hand will be assured to have a great stay and you will find an officer from the tourist police on every corner, especially near touristic attractions like Habana Vieja and the El Malecón sea front area. I was told that Cubans are not allowed to be seen let alone talk to tourists and that in some public places you might even spot security cameras controlled by the police! Of course Cuba has a lot of positive things as well it's just good to prepare yourself before taking off so you know what to expect.
As a travel destination we loved Cuba and had a wonderful ten days visiting Havana with its beautiful Havana Vieja, the statue is of Jose Martini at Plaza de Independence, the Cathedral of Havana, the El Capitolio which from the seat of the Cuban government has become the building of the Academy of Sciences and of course the El Morro Fortress.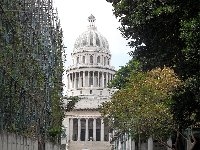 Travel Blog Havana
We also went to Santa Clara by bus to visit some of the attractions that today relate to the Cuban Revolution like the world famous mausoleum of Che Guevara.