March 22nd, 2010
Together with my girlfriend I've travelled around Cuba for 25 days.
We decided not to book any fancy accomodation but to stay with the locals so once we had booked our flight and packed our backpacks we were ready for a new adventure!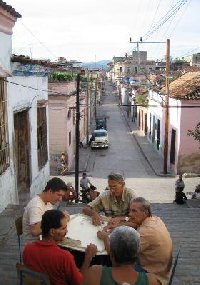 Panoramic streetview of..
In Havana we stayed in one of the many casa pecular and during the day we travelled by bus, taxi, trucks, tractors and by hitchhiking from one place to another.
Especially the coco-taxi, which is very common in Cuba, was a great experience!
Besides the capital we visired places like Cayo Largo, Vignales, Pinar del Rio, Cienfuegos, Santa Clara, Trinidad, Holguin, Santiago de Cuba and Baracoa.
In Havana we found some amazing bars and restaurants like La Bodeguita del Medio, El Floridita and El Malecon.
All together it has been an amazing trip and a great adventure!