June 9th, 2011
If anywhere this Summer go to Cuba on your holiday because it really has everything you can expect from your destination. My husband and I spent a lovely 5 days in Havana and from there travelled to other places on the island, from the jungle to the coast.
This blog I only uploaded some pictures of Havana City and some photos of Santa Clara, known for the Che Guevara monument. We also stayed on the coast and went into the jungle for some serious hikes but I will upload those pics next time.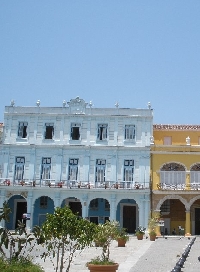 Where to go in Havana
Havana is a gorgeous and especially a very typical city with beautiful colonial architecture, street art and some very romantic places to dine at night. We loved it there so much and stayed for 5 days but would love to visit again. From Havana we rented a car, well at the airport that is which came in handy when we decided to tour other parts of Cuba and gave us the freedom to do so. Below are some pictures of known and maybe less known sites like Che Guevara's Monument and Mausoleum in Santa Clara, the Ministry of Internal Affairs building in Havana with again Che as a national symbol and of course the great beaches that make Cuba such a paradise!