March 12th, 2010
Cuba is an amazing country with a rich culture to explore. The city of Havana is really characteristic and as soon as you get off the airplane you can just feel something special in the air and you ask yourself how it's possible that this paradise is only a few hours away!
Unfortunately there is also a less brighter side about this country and about Havana, the capital of Cuba and the largest city in the country.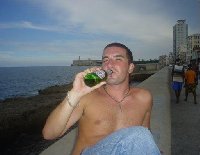 Having a drink on Malecon de..
The locals in Havana, but also in different parts of Cuba, depend on tourism as it often is their main resource of financial income and thousands of Cubans struggle to cope with these harsh conditions.
Eventhough a lot of people find themselves in this terrible situation they always seem to find the strength to look at things in a positive way.
The people I met were so friendly and hospitable that their smiles almost make you forget about the homes they return to at the end of the day. A beautiful country with a beautiful people.