October 18th, 2010
The bridge over the River Kwai is a very popular touristic attraction in the Kanchanaburi and usually it's part of a touring package including other sites like the Tiger Temple, the Erawan Waterfalls, a ride on the historic Burma train or a walking tour through Hellfire Pass.
We also decided to do such a tour because these sites tell an important part of Thailand's history and especially of the period in which Thailand was under Japanese control.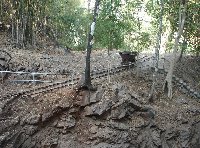 Tours Kanchanaburi
It was this period when the building of the infamous Burma Railway began, a construction plan which caused the deaths of many prisoners working on the River Kwai Bridge, today also known as the Death Railway.
Looking back on that past today tourists can go for a ride on that Burma Railway and experience the River Kwai from a different point of view. The ride was very exciting as the construction seems to be lacking stability or safety guard rails but the view of the river and the scenery surrounding the bridge over the river Kwai was spectacular.
We also toured Hellfire Pass, built also during WWII under very harsh conditions for the workers which obviously explain the name of the railway cutting. Today there are no trains running on the stretch of Hellfire Pass and it has become a memorial site for the fallen workers.
The experience was very impressive and made us feel lucky to be able to visit this beautiful place in better conditions but at the same time there was a certain sadness that dominated this part of the tour.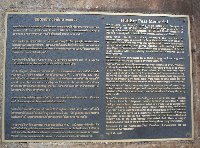 Tours Kanchanaburi
It was a good thing the River Kwai Bridge tour was combined with a visit to the Nam Tok Station where we went for a train ride and were able to get some snacks and souvenirs.