January 14th, 2010
In Kanchanaburi we stayed at Apple's Guesthouse which was recommended by the Lonely Planet guide and a very popular low budget accomodation choice. I tried calling weeks ahead but it initially it seemed the place was fully booked. After recalling a few times we found out the guesthouse in Kanchanaburi would be able to book us a cabin.
Apple's Guesthouse is a fine place to stay and I honestly don't think you'll find a better place for this price. We paid less than 10 dollars for the cabin. Of course the room wasn't too luxurous and you had to invent something yourself to make the toilet flush..At least we had an accommodation in the centre of Kanchanaburi without going through to much trouble.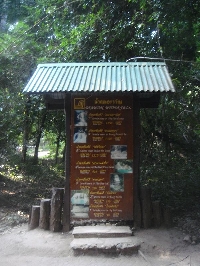 The 7 tiers of the Erawan..
We decided we wanted to visit the Erawan Waterfall located in the province of Kanchanaburi and arranged for a daytrip. The falls of Erawan, named after the three headed Hindu white elephant for its beautiful water drops, is located in a beautiful bush on top of a hill. You can hike to the top of this hill passing by the different seven tiers of the Erawan Waterfalls.
Each tier is indicated on the information sign by name and the number of meters it will take you to get there. You can decide weather to skip certain tiers and go straight to the top or make a stop at each fall.
There are amazing water drops and pools where you can swim in. The Erawan Waterfalls National Parks also contains several picnic area's and a lot of Thai locals make it to the park to spend their weekends with their relatives.