January 8th, 2010
Kanchanaburi is situated west of Bangkok and lies within a more rural area. The town itself isn't too big but you'll find a nice street packed with bars, restaurants and little shops.
A nice thing to do and a very popular day tour is to go and visit the elephants. Now, it did wanted to ride an elephant but I kind of refused to go and take a look in those elephant sancturies where they let the poor animals dress up and dance around. This happens a lot in Thailand and the people see the elephants as touristic entertainment. The same happens with wild monkey's and I picked up a brochure where they even managed to put make up on their faces and got them to act in front of public. Heart breaking..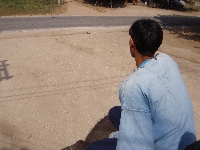 Elephant rider in..
The tour we did does keep the elephants in a park but doesn't make them entertain crowds or do other unnatural things. We did see a smaller elephant changed to a pole but they explained us they did that because otherwise she would run away.
After a short introduction we went for an elephant ride through the park which was really nice eventhough I kept asking myself if we really weren't too heavy for the elephant:) I just don't realise how strong these animals are.
The elephants walked through a village in Kanchanaburi close to the river and we actually got to bath them in the river! This was very nice and I think the elephants enjoyed it too.
For more info just email or call the Apple Guesthouse where we stayed. They care about the good treatment of these animals.