February 3rd, 2010
Kanchanaburi is a popular place for touristis who want to go trekking and see a bit more of the rural Thai landscape. Kanchanaburi offers a great deal of sightseeing and played an important role in the Japanese occupation of Thailand during WWII.
During this period the world famous Thailand-Burma railway, now known as the Death Railway, was initiated. During the construction of this railway the working conditions were harsh and more than 100.000 men lost their lives.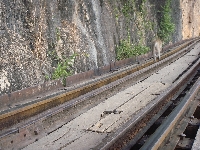 The Railway close to the..
Today the Death Railway Bridge is a popular tourist attraction and visitors can walk accross the bridge, look out over the River Kwai or visit the nightly light show which commentates the final attack on the Death Railway during the war.
In Kanchanaburi you will find the remains of the ancient railway train at the JEATH Museum which stands for all the countries, Japan, England, Australia, Thailand and Holland, who were involved in the building of the bridge on the River Kwai.
Many tours which go up to the Erawan Waterfalls make a stop at the Wang Pho Railway Station where you you can walk over the tracks of the railway which are still being used. Alongside the railway track you will find Tham Krasae a Buddhist cave temple.
The Krasae Cave is located about 55 kms of Kanchanaburi and attracts many tourists who don't mind paying for a visit. You can easily walk up to the cave by following the tracks from Wang Pho Station.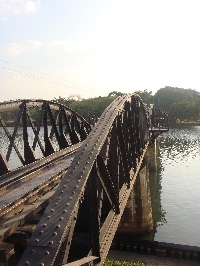 The River Kwai Bridge in..
Walking up to the Krasae Cave we weren't the only curious visitors around and even spotted a monkey hidden under the wooden tracks. One of the locals knew who to treat the timid monkey and fed him a banana so we could take some pictures.