November 3rd, 2010
Backpacking through Bolivia you can't skip the hostels of all hostels and spend the night at the real Salt Hotel, located in the Salar de Uyuni.
The salt lakes of Uyuni are worth a visit on its own and the best thing to do is to rent a car with a group of people like we did or sign up for a Uyuni Jeep tour.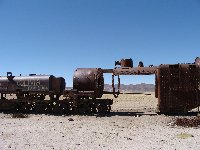 Tours Potosi
The only reason why me and the guys that I was travelling with didn't book an official tour was that we had a real travel guide with us.
Francois, a French guy I met in Uyuni at a hostel used to go on the salt lake tours as a guide and got me all excited to go there. Together we asked three other guys that shared our dorm to come with us on our salar adventure.
We had so much fun, especially taking pictures on the salar and playing with the dimensions of the white salt flats. At night we stayed at the Salt Hotel in the middle of the salar which was pretty cool. Luckily Francois prepared us for the extreme cold nights so we had picked up some woolen clothing before departure.
It was a great trip from the Uyuni cemetary to Isla de Pescado and the Bolivian Altiplano all the way to Laguna Colorada which is a wellknown breeding ground for flamingo's. All beautiful places and with the guys it was a trip I won't forget quickly.