February 25th, 2011
Bolivia has a lot of interesting parks to visit and eventhough the Torotoro National Park is maybe one of the smaller ones the guided hikes that leave Cochabamba, Potosi are always popular.
The major drawcard of Torotoro, besides the park's amazing panoramic views, are of course the misterious dinosaur footprints!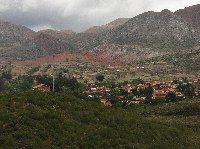 Tours Torotoro
Two years ago my husband and I travelled through Australia and visited Broome where I spotted my first dinosaur footprints which for me was an amazing experience. Of course there will be always be people who dont believe in the true origin of the prints but still nobody can really prove the experts wrong either so when I found out about the Torotoro National Park in Bolivia I knew I had to see again for myself.
The prints had a pretty similar shape as the ones we had seen in Broome which was very interesting and this time around we also had a guide, since we visited the park during a professional trekking, which made the experience even better.
Besides the dinosaur footprints the Torotoro NP has some amazing features like the El Vergel waterfall and the Cueva Humajalanta which was really exciting to make our way around all the with stalactites and stalagmites while almost not seeing a thing in front on you!