November 8th, 2010
I have done an internship in La Paz for three months and eventhough it's a really nice city to stay in I sometimes felt the need to escape all the chaos and clear my mind.
The thing that worked best for me was to purchase a bus ticket out of La Paz and go on a day trip or guided hike in one of the many rural sites around the city.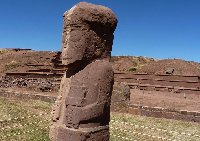 Trip to Tiwanacu
One place that I found particularly magical was the site of Tiwanacu, an important archeological site of ancient Inca ruins in the western part of Bolivia, about 80 km from La Paz.
Tiwanacu is an ancient Inca city which represents a part of Bolivian history and even in La Paz you will be able to find a sqaure named after this site.
Most people visit Tiwanacu while travelling from La Paz to Copacabana but like I said you can also purchase a bus ticket and visit the site on a day trip.
During a guided walk you'll have the opportunity to explore the beautiful remains and learn more about the interesting Inca rock sculptures like the ones carved into the wall of the Kalasasaya temple and the massive Ponce Stela statues of Tiwanacu which are of great meaning to the Inca culture.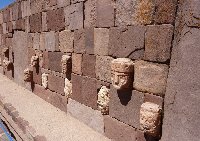 Trip to Tiwanacu
Besides the beautiful scenery and a bit of fresh air I think a tour to the archeological site of Tiwanacu is the perfect way to learn more about the values of the Bolivian culture and their ancestors.