November 29th, 2010
Last Christmas my parents, my brother and I went on a beach holiday to Florida and had a lot of fun. We visited Miami, Tampa, Orlando and some other places but the best part of the vacation was the trip we made to the Everglades National Park.
The Everglades National Park is one of the largest parks in the United States and is the perfect place to spot some amazing Florida wildlife, including the fearless crocodiles!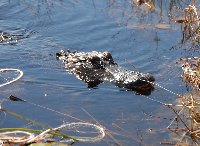 Trip to Everglades
We made a boat tour that was so cool and I can´t really describe the boat but the tickets we bought said air boat ride so let´s call it a typical Everglades air boat, the most amazing ride of my life!
By airboat we almost flew over the grasslands and the guy at the wheel was so nice that he even let me help him steer for a second. The Everglades is also the place to be to spot Florida´s exotic wildlife and you can get really close to the crocodiles as they actually swim up to the boat!
We made the day trip to the Everglades from Miami but I guess tour will also leave other places like Tampa.