December 4th, 2010
I was in Amsterdam for the Sinterklaas day. This is a feast for Saint Nicholas, patron saint of Amsterdam. Every 5th of December in the whole Netherlands people are eating chocolate and exchanging gifts.
Last night I played a special Sinterklaas bingo and I won a lot of nice presents for Sinterklaas. In the last days it was really cold in Amsterdam and the streets were full of snow, it was beautiful.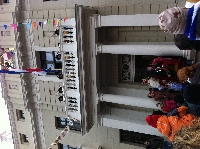 Travel Experience Amsterdam
While we were walking around in Amsterdam we met the real Sinterklaas and there were hundreds of kids around him asking for candy.