November 4th, 2009
Back from Kangaroo Island we got of the ferry at Cape Jervis and drove in direction of Victor Harbor. A lot of people told us to visit this seaside town and the 120k drive on Kangaroo Island to the jetty and the 1 hour ferry ride considered we weren't in for a long drive.
Victor Harbor is at about 60 km from Cape Jervis and a good stopover on your way to Melbourne or the further eastern part of Southern Australia.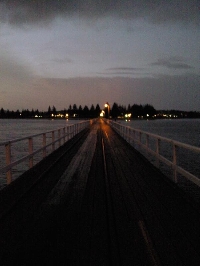 To the penguin tour
In Victor Harbor we arrived in front of the old jetty bridge that connects the main land with Granite Island, famous for its little penguins. To get over there you can either walk or during the day you can take a ride on the horse tram which has been operating since the 1920's.
The horse ride takes about 20 minutes and the last tram leaves the visitors centre anout 4.pm. On Granite Island you can take a 40 min return walk so if you want to go back to Victor Harbor by tram you'll be better off getting the tram around 3. pm. so you can take your time.
On Granite Island you'll find the Penguin Centre where you can find a timetable for the penguin tours held on the island at night. Tickets can be purchased inside the gift shop near the centre.
We bought our tickets for that nights penguin tour ( 12.50 AUD pp ) and took the tram back to the shore.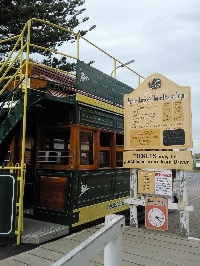 The Horse Tram
In Victor Harbor we stayed at the McCracken Country Club which was terrific. We found a great lastminute deal on lastminute.com.au for our 4 star room and had a discount of almost 90 AUD!
The McCracken Country Club has a tennis court which you can use and we also saw a gym and a group of ladies was following a pool aerobics class in the hotels inside pool area.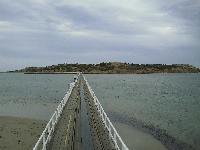 Bridge Victor Harbor
Eventhough we didn't get to use these services because of a lack of time we did use their wired internet ( half an hour will cost you 3 AUD, an hour 6 AUD and two hours internet access will cost you 10 AUD ).
After a few hours we headed for a bite in the town centre and ended up at a place called Nino's which was ok. There wasn't a lot of choice as in eateries and restaurants but we were happy not to eat at the crouded hotel restaurant accross the street from the Visitors Centre. The place looked crowded so we booked a table but having seen the precooked meals behind the counter and the retirement seats we cancelled our table and got out of there!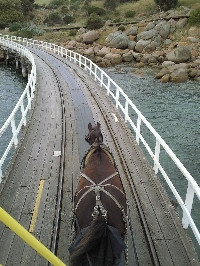 Walkway to Granite Island
At Nino's we had some barramundi which was great and a margherita pizza which of course didn't taste italian at all but we had worse:)
After dinner we walked over to Granite Island for our penguin tour and were happy to have put on some heavier clothing as the winds on the island are pretty fierce.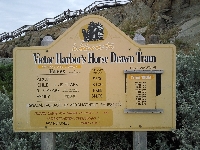 Tram time table
The penguin tour was really good and we saw a lot of penguins with their chicks which was super cute. The penguins made a lot of noise and the guide explaned their behaviour and flashed the penguins so we could take some pictures in the dark. We also spotted some possums and even got to see a huge water rat :0
Keep close to the guide if you want to take good pictures as she won't flash her light for a long time on each group of animals as it might confuse them.
To see the penguins at night was a great experience and be sure to do this tour when visiting Victor Harbor.