February 28th, 2011
Like Cape Tribulation there are many great places and islands to visit when you're travelling on Australia's east coast. Especially when you're not in a hurry and in for some adventure there are a lot of great trips to go on.
Moreton Island, off the coast near Queensland's capital Brisbane, is one of those island destinations and perfect for a camping trip with your mates or just join a group like I did.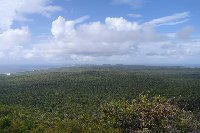 Trip to Moreton Island
Moreton Island has spectacular beaches and is great for sandboarding, snorkeling, jeep rides or other fun stuff. I bought a ticket for the Moreton Island Ferry through the hostel I stayed at in Brisbane and they arranged for my camping trip as well.
There are plenty of travel agencies, or internet cafes that offer similar services, all over town so for me it was easy to find a good deal to visit Moreton Island. The ferry ride was really nice and a perfect way to chat up with the guys in the travel group.
We also visited Cape Moreton Light which is the oldest lighthouse in Queensland and a sort of landmark for the Sunshine State. For the more thrill seeking visitor there are plenty of other things to do like Tangalooma shipwreck diving, parasailing or 4WD rallying.