November 29th, 2009
From Launceston in Tasmania we drove to Hobart where we took our flight back to the mainland. We allready stayed in Melbourne before heading to Tasmania so our plan was to drive in direction of Eden, one of the first sea side towns after the New South Wales border.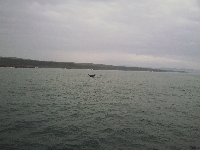 Whale Tail!
Because or flight landed in Melbourne around 10 pm we decided the best idea was to spend the night in a hotel close to the airport and then drive to Eden early the next morning. Eden is located at about a 7 hours drive from Melbourne so you should leave early otherwise you'll end up on a curvy dark road with a lot of wildlife and you don't want to hit a wombat or kangaroo while you're on a holiday:)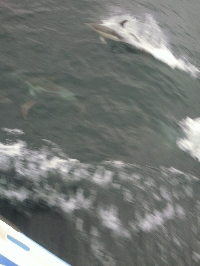 Dolphins on Cat Balou cruise
The main reason we choose Eden as a good stopover was its location on the New South Wales coast and its great reputation for whale spotting. A day before arriving in Eden we booked a whale watching tour with Cat Balou Whale Watching Cruises and that was the best thing we could have done!
Eventhough it rained almost the entire tour, not Cat Balou's fault.. we saw heaps of wildlife from whales and seals to dolphins and sea birds. Especially the whales were amazing and the Cat Balou cruise will bring you really close to these huge creatures.
We spotted several mums with their calfs and even a group of three males playing in the water. We were so lucky as one of the mother whales was on her return to the bay with her calf and the boat could just follow her while she litterally jumped through the water!
Watching a whale of let's say a few tons jumping up out of the water, turning on its back and smashing into the water just in front of the boat was mind blowing. I think she was les then ten meters away. Not only did she breach once but three times we saw the mother whale breaching!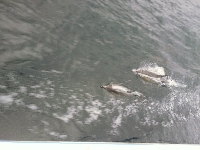 Dolphins in Eden
The guide told us this was a rare thing to spot and usually you just see the breaching whale on the post cards they're selling at the gift shops. The first jump was a little bit lower and a lot of people missed it because the whale came out of nothing in front of the boat leaving a huge footprint after her breaching.
The second and highest jump was even better and we could see the whole side line of the whale curving through the air pointing her white tummy to the sky...WOW, so happy I got that on film:)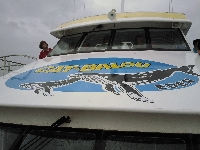 Cat Balou Whale Spotting..
We also spotted a big group of dolphins swimming and jumping along the boat for at least 10 minutes so everybody could take some good pictures.
Best tour ever!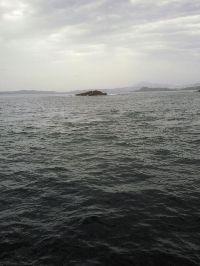 Whale watching Eden