April 15th, 2011
From Jerash in the north of Jordan we coninued our journey and went on several tours in and around Amman before heading to Mt Nebo in direction of the border with Israel.
From the top of Mt Nebo you can get great views of the Holy Land and see the city of Jericho and even Jerusalem if you're visiting the ridge on a clear day.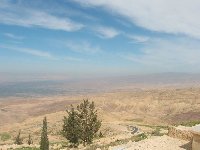 Holiday in Mt Nebo
Our guide showed us the mosaic-covered floor present in the church which is one of the best preserved treasures and interesting features of the site.
After our Mt Nebo tour we continued our trip in direction of Petra to visit one of the New Seven Wonders of the World.