May 16th, 2011
Hi everyone, last week I went on a holiday to Paris! It was my first time in Europe and the trip was a birthday surprise from my parents.
Together with my big sister Ashley I spent 5 days in the most romantic city in the world and it was amazing! Eventhough I wish we could have stayed longer..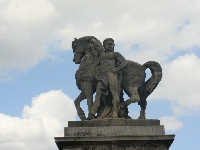 Travel Blog Paris
The flight was with Delta and was pretty long, I guess it was something like 8 hours and I was so happy when we landed. We checked in at the Hotel Notre Dame Paris, a great hotel was a top location across the Notre Dame Cathedral and right at the river Seine.
Paris was fabulous and I would love to go back some day, it was an amzing holiday which I will never forget.