November 21st, 2011
From St Petersburg we made a trip to the village of Werchnije Mandrogi by boat. The river cruise on the Svir Riverwas really nice and we had some great sightseeing on our way to this fairytale-like island village.
Werchnije Mandrogi is a former fishing village located about 280 km northeast of St Petersburg near the town of Podporozhye in the Leningrad Province and serves as a local museum.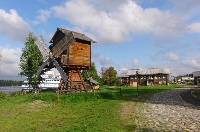 Travel Guide Werchnije Mandrogi
Today there are less than 100 people living on Werchnije Mandrogi permanently and the village relies on tourism as visitors come to admire the traditonal Russian architecture and make a stop at the village while cruising between Moscow and St Petersburg.
Besides the wooden farms and houses there's also a post office, a hotel and some small shops but the best thing are the activities and we learned more about making traditional pottery and even painting the famous Russian dolls. The Wodka Museum is also worth a visit, where you can try the over 3000 varieties of vodka!