December 15th, 2011
Nizhny Novgorod is one of the largest cities in Russia ranking after Moscow, St. Petersburg, Novosibirsk, and Yekaterinburg.
We visited the major tourist attraction such as the house of Maxim Gorky, a Russian author who was born in the city of Nizhny Novgorod and which is also known as Gorky because of his works in Socialist Realism literature.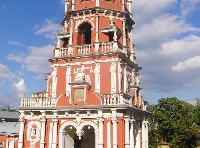 Holiday in Nizhny Novgorod
The Church of the Nativity of Our Lady is one of my favourite constructions in Nizhny and worth a closer look inside!
We returned to our cruise ship in the late evening for sinner and the view of the city was just stunning leaving us almost a bit sad to leave.