December 28th, 2011
Cruising down the Volga river we left Nizhny Novgorod behind and continued our travel experience in beautiful Russia in eastern direction. Our next destination Kazan lies on that same river or to be more precise at the confluence of the Volga and Kazanka Rivers.
The city of Kazan is the largest city and capital of the Republic of Tatarstan and it has been referred to as the third capital of Russia for its greatness.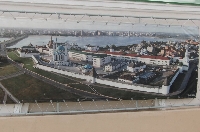 Travel Blog Kazan
We arrived in Kazan in the early morning and spend an entire day of sightseeing which included a visit to the impressive and beautiful Kul Sharif Mosque, the most important tourist attraction of Kazan and a real jewel to the city's architecture. The inside of the Kul Sharif Mosque is even more beautiful and the best thing to do is to go on a guided tour.
Besides the Kul Sharif Mosque there are many churches and other mosques in Kazan that you can visit such as the Epiphany Church with its beautiful bell tower or the Nurulla Mosque. For us one day of sighseeing in Kazan was nice but you could enjoy a second day around town as there is enough to see and experience.
Kazan does not only has a rich cultural and historical patrimony but it's quite a modern city as well with nice restaurants, a lively city centre and good shopping.