December 12th, 2011
From Kizhi we arrived in the town of Kirillov on the shores of Lakes Siverskoye and Dolgoye and where we made a stop for some sightseeing.
We visited the St. Cyril Monastery also located on the shore of Lake Siverskoye which today may look pretty deserted but is considered one of the prominent monasteries in Russia because of its great location.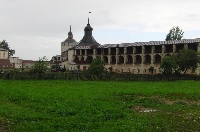 Tourism Kirillov
The St. Cyril Monastery was visited by important leaders as Ivan the Terrible and Vasili III of Russia, both known as Princes of Moscow.
After our visit to the town of Kirillov we turned to the cruise ship for lunch; a fine glass of sparkling white Cobetckoe wine and delicious Pelmeni dumplings filled with minced meat, fish and mushrooms.
From Kirillov we headed to Yaroslavl where we first visited the Church of the Epiphany but more about Yaroslavl in my next post!