November 30th, 2011
Our next stop was Kizhi Island to visit the historical site of Kizhi Pogost which is known for its beautiful location on Lake Onega and traditional wooden constructions.
The site is home to two churches which are known as the Church of the Transfiguration and the Intercession Church, both incredible constructions with beautiful domes. Another feature worth visiting is the bell-tower.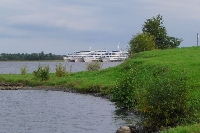 Holiday in Kizhi
In my photo gallery I placed a photograph taken inside the Transfiguration Church and you can imagine the beauty of this church!
The town is known as Kizhi Pogost because it is a fenced area and pogost in a term used to indicate the territory which lies inside the fence. Besides its name it has been visited by tourists for its beauty and especially its location on the lake is really special.
From Kizhi we moved to Goritsky to visit the Goritsky Monastery but I will write more about that stop in my next blog!