December 30th, 2009
Ayers Rock Resort is the only form of accommodation you'll find close to the Uluru National Park. The Resort has several types of accommodation to choose from which have different rates and facilities.
The Ayers Rock Resort Accommodation Types are listed below: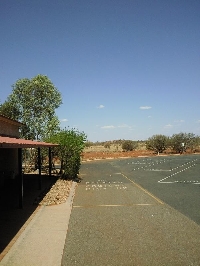 The road to Uluru
1 Sails in The Desert Hotel
2 Desert Gardens Hotel
3 Emu Walk Apartments
4 The Lost Camel Hotel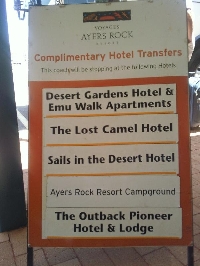 Ayers Rock Airport Shuttle
5 Outback Pioneer Hotel & Lodge
6 Resort Coach Campground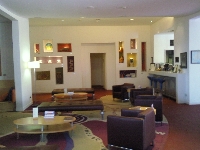 The Lost Camel Hotel in..
7 Ayers Rock Resort Campground
All these accommodation types are part of the same Resort but have different standards and services. To be able to use the services of another hotel you can hop on the Free Ayers Rock Resort Shuttle Bus that leaves in front of your accommodation every 15 minutes . The shuttle that circulates the resort operates daily from 10.30 am till 18.00 pm and 18.30 till 00.30 so you'll be able to do your shopping at the supermarket which is located next to The Lost Camel Hotel untill late. Keep in mind the fact that the supermarket closes around 21.00 pm. This is the same shuttle that will pick you up from the airport to bring you to your hotel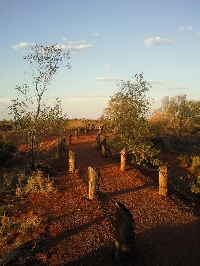 Ayers Rock
There are also several restaurant at the Ayers Rock Resort which are spread over the entire hotel ground.
Here's a list of all the restaurants at Uluru.
1 Restaurant Kuniya
2 Restaurant Winkiku
3 Restaurant Rockpool
4 Restaurant White Gums
5 Restaurant Arnguli Grill
6 Restaurant Bough House
7 Outback Pioneer BBQ Bar
8 Bunya Bar
9 Geckos Cafe
Depending on the type of accommodation that you book you'll be positioned nearby some of these restaurants. For example The Sails in The Desert Hotel is close to Restaurant Kuniya, the Winkiku restaurant and the Rockpool restaurant while the Desert Gardens Hotel is near the Bunya Bar and the White Gums restaurant.
Facilities also vary and there is one Ayers Rock Resort Shopping Centre which is close to the Lost Camel Resort and offers several services and shops :
1 Tour and Information Centre
2 Supermarket
3 ANZ Bank
4 Newsagency
5 Australia Post Office
6 Hair Salon
7 Rock Photographics
8 Geckos Cafe
9 Geckos Takeway
10 Red Rock Deli
11 Ayers Rock Designs
12 T-shirt Shop
13 Craftworks