December 29th, 2009
There are a lot of tours and activities for you to choose from. There are Dining Experiences like The Sounds of Silence or the Desert Awakenings.
The Sounds of Silence Dinner
This award winning tour is probably the most popular one at Ayers Rock and tours are regularly fully booked so the best thing is to book ahead. You will have a dining experience under the stars with a real didgeridoo player, outback-style canapes and croc and roo tapas. The Dinner is completely arranged and the staff will provide everything needed. Guests can enjoy a glass of champagne under the stars overlooking Uluru and Kata Tjuta.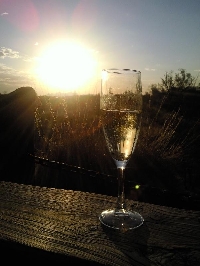 Champagne in the outback at..
After this aperitif the tour bus will guide the guests to their outback restaurant under the stars where a three course buffet awaits them. The Sounds of Silence Dinner includes all drinks from wines and beers to tea, coffee and port, served with your meal. Reservations can be made through the internet or at your hotel reception.
The Desert Awakenings Experience
This early morning tour offers a light breakfast with great views of sunrise over Uluru and Kata Tjuta. The breakfast is served at a remote and intimate setting where you will be able to take pictures of this amazing area. After breakfast your expert guide will walk you through this bush area and around the base of Uluru. You will end the morning with a visit to the Cultural Centre where you can also visit their art gallery.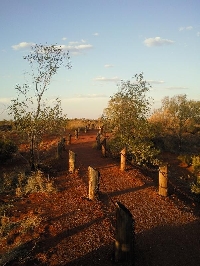 The path leading to the..
Besides the dinner and breakfast experiences there are several tours to choose from. There are tours around, over and above Uluru but you can also book tour to The Olga's/Kata Tjuta, Kings Canyon or go on a safari to Mount Connor.
There a the standard touring coaches but for more special requests there are also scenic flights, motorcycle tours and camel rides. Every hotel has a great range of brochures to choose from and tours can be booked a day prior.