December 29th, 2009
The Emu Walk Apartments are second on the shuttle tour around the Ayers Rock Resort and placed between the Lost Camel Hotel and the Desert Gardens Hotel.
The Emu Walk Apartments are close to the Ayers Rock Runshopping Centre with its supermarket and long list of other facilities. To get here you can either walk or take the free resort shuttle. The Emu Walk Apartments have no restaurants because of the kitchen area in the apartments. To dine out heading to the White Gums Restaurant at the Desert Gardens Hotel would be the nearest.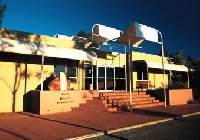 Emu Walk Apartments at Ayers..
The apartments can cater for up to 6 people and are all self-contained, with separate kitchen, living and bedroom areas.
The nightly rate depends on the season and the accomodation type. There are 1 Bedroom Apartments and 2 Bedroom Apartments. For prices check the Ayers Rock Resort website but here´s a list of prices valid in the period 1st December 2009 - 31st March 2010
1 Bedroom Apartment $390 per night
2 Bedroom Apartment $470 per night