December 29th, 2009
Like The Lost Camel the Outback Pioneer Hotel and Lodge is a 3,5 star accomodation and located withinthe Ayers Rock Resort.
The Outback Pioneer Hotel has its own bar and BBQ area. You´ll find live entertainment nightly at the BBQ Bar and there are also pool tables for the guests to use.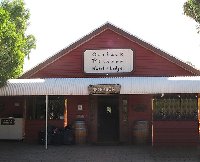 Outback Pioneer Hotel an..
Beside the BBQ Bar there is a Outback Pioneer Bottle Shop to purchase some wine, beer or other alcoholic drinks. This is because the Outback Pioneer Hotel and Lodge is located a bit further away from the supermarket. The hotel is the last hotel on the shuttle route and is positioned between the Ayers Rock Campground and the Desert Gardens Hotel.
The Outback Pioneer Hotel and Lodge has a souvenir and gift shop, wiredless internet and a restaurant. The Bough House restaurant has a popular buffet but is also open for breakfast and lunch.
For a wide range of menu choices head to the Outback Pioneer BBQ where you can choose sausage, kangaroo, steak, fish, chicken or other mains. There´s also a salad bar.
Prices at the hotel depend on the season and the type of accomodation. You can check the Ayers Rock Resort for more info but here´s a list of some prices valid from the 1st December 2009 - 31st March 2010
Budget Room – without bathroom $190 per night
Budget Room – with bathroom $220 per night
Standard Room $330 per night