December 29th, 2009
3,5 Star The Lost Camel Hotel is located pretty central in the Ayers Rock Resort and it's the closest accomodation to the Runshopping Centre where you'll find the Geckos Cafe, the Geckos Takeway and the Red Rock deli.
The Ayers Rock Runshopping Centre also offers a lot of other facilities and services like: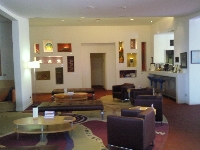 The Lost Camel Hotel at..
1 Tour and Information Centre
2 Supermarket
3 ANZ Bank
4 Newsagency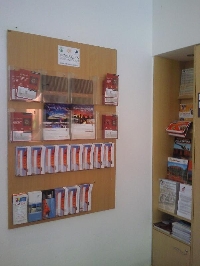 Brochures and Tour info at..
5 Australia Post Office
6 Hair Salon
7 Rock Photographics
8 Ayers Rock Designs
9 T-shirt Shop
10 Craftworks
The Lost Camel Hotel has lower prices compared to the other 4 and 5 star rated hotels at Ayers Rock but you 'll still spend a lot more compared to the camping ground.
The Lost Camel is a very modern hotel with high standards and a great service. Rooms are cleaned daily and are all positioned around the hotel pool. The swimming area is very clean and is ideal for relaxation. The swimming pool remains open at night so you can relax at the pool after an evening tour in the outback.
The Hotel Reception offers a lot of information and the staff is happy to help you with any problems or requests. Tours can be booked here. Internet can be purchased as well.
The lobby is very spacious and modern. There is also a hotel bar to serve from early to late. Cocktails or morning tea, the staff will be happy to serve all day.
Here are some prices from the Ayers Rock Resort website. These prices are valid from the 1st Dec 2009 - 31st Mar 2010 and from the 1st Apr - 30th Jun 2010:
Standard Room $330 per night