December 29th, 2009
Camping at Ayers Rock instead of staying at one of the hotels will help you to save money. The hotel accomodation will cost you around 400 AUD per night for two persons when camping won't even cost you 50 AUD per night. Naturally you will miss out on all the comforts the other hotels have to offer but then again you wont be paying for them either.
There are several camping sites to choose from and there are tent sites, powered sites, and air-conditioned cabins.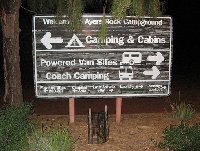 Travel Experience Ayers Rock
Located within the Ayers Rock Resort, the campground is an ideal base from which to experience the beauty of Uluru-Kata Tjuta National Park.
The Campgrouns is well-equipped and suited to families, independent travellers and groups.
Campground features include:
# Swimming pool
# 2 full-size tennis courts
# Reception open from 7am to 9pm
# Major credit cards accepted
# Limited foreign exchange and travellers cheques
# Shared amenities
# Communal kitchen facilities
# Public ISD/STD telephones
# Share gas barbeque facilities
# Laundry facilities
# Wireless Internet & Internet Kiosk
Prices vary and depend on the type of accomodation.
Camping - Powered Site (per person) $19 per night
Camping - Non-Powered Site (per person) $16.50 per night
To stay in one of the cabins which fit up to 6 persons expect to pay around 150 AUD per night.
There are also Permanent Village Tents with 2 single beds, linen, a recharable lantern, extra bedding and a hot water bottle on request. Rate per tent: 95 AUD per night.