February 12th, 2010
The Newroz celebration falls on the first days of spring and celbrates the Kurdish New Year. Besides a celebration the Newroz festivities also symbolize the indipendence of the Kurdish people who still battle for their own country.
Kurdistan never succeeded in having their national identity acknowledged by the Turkish authortities and their territory is being controlled by Turkish militant forces today. Kurdistan is not a small territory and covers one fifth of Turkey's land. Besides that the Kurdish people have always been divided over Turkey, Iran, Iraq and Syria which makes it an even harder battle to fight.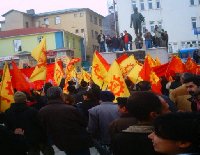 Photos of Kurdistan, Turkey
Every fight for indepence has cost the Kurdish many lifes and during the celebration of Newroz the people can come together and think of better ways to live together. Since a few years people from other countries in Europe have celebrated the Newroz with the Kurdish people to show them their respect and solidarity.