March 1st, 2010
My trip to Cuba was a last minute decision and maybe the best I ever made! After a flight of twelve long hourse I arrived on the island of Cayo Largo, surrounded by an amazing Caribbean Sea shimmering underneath the sun, simply spectacular!
After we arrived at our resort I didn't want to waste a second in my hotel room, and went straight to the beach. The water was amazing and warm with a temperature of 28 degrees, too good to be true!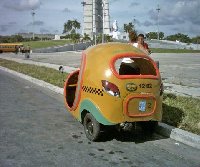 The Cocotaxi in Cuba.
During my stay at Cayo Largo we rented a car, this huge Vitara jeep, so we could see every angle of the island.
The most stunning beach has to be Playa Sirena where you will find an endless stretch of white sand that, strange enough, doesn't burn your feet! If you want to lie in the shade, there are plenty of palm trees on the beach.
You also have to visit the Museum of the Turtles which is amazing. We even managed to book a night tour to go and spot the turtles on the beach while they lay their eggs.
At a certain point we got so close we could see her dropping the eggs in the white sand, an unforgettable experience!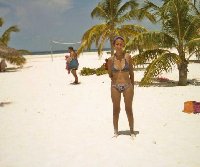 The beach of Playa Sirena.
Other day trips we did included a visit to the local fishermen's village which was really interesting and it was a great way to learn some more about the locals and their way of living. We also went on an excursion with a catamaran to visit the Iguana Islands.
This trip was amazing and we even got to catch some fresh lobster which the crew prepared on board of the catamaran, the best seafood ever!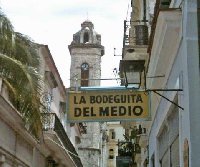 Cuban bar famous for its..
Of course you can't leave Cuba without paying a visit to the capital of Havana. We went there on a day trip and the guide showed us every little bit of the city, from the poorest neighbourhoods to the exagerated luxury life style of the richer Cubans. A real eye opener and a very interesting and moving day.