March 24th, 2010
In August I've been to Varadero, an amazing place from the beautiful beaches to the fascinating Cuban cars driving in the streets.
These old American cars used during the sixties are amazing and often still in great shape.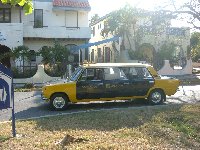 Where to go in Varadero
The water at the beach was crystal clear and the sand, maybe not as white as snow but beautiful as well. The beach area was surrounded by palm trees full of coconuts.
The trick was to get to them but once you got one the coconut meat was delicious, and as fresh as it gets! I
had a great time in Varadero and the people were also really friendly which made my stay more than pleasent.