March 25th, 2010
The first time I visited Rome was during a field trip. I always heard people talking about the beauty of this eternal city and now I was finally going to witness it all myself!
Piazza del Vaticano was amazing and I couldn't believe how many tourists were standing in line to visit the Basilica of San Pietro.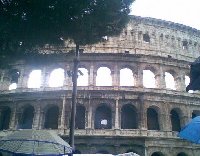 Photo of the Colosseum in..
Each person wanting to enter the basilica had to be searched by the security guards. We ended up waiting in line for about three hours but once we entered the basilica I have to say it was quite worth it!
Besides the Vatican you can't visit Rome without walking across one of its famouse bridges and looking out over the beautiful Tevere river.
Another crowded touristic attraction is the Fontana di Trevi, or the Trevi fountain.
According to the fountain's myth once you've thrown a coin over your shoulders into the water of the Trevi foutain you will gain everything you wish for in life!
Of course I took a shot at it too, at least for the picture! In the afternoon we grabbed some lunch and decided to eat in on the steps of Piazza di Spagna.
We sure weren't the only ones who had came up with that idea but it was a beautiful way to enjoy the square and the city centre of Rome with its chique Via Condotti, known for all the designer boutiques.
Then, the masterpiece of Rome: The Colosseum! Standing in front of it was amazing and eventhough we were tired of all the walking, it was worth it all! We had a great time in Rome and the best experiences to remember this city by.