January 25th, 2012
During our holiday in Rome we stayed at this excellent H10 Hotel. We booked the hotel online and had found a great dealing, paying just 55 euro's per night. On tripadvisor the hotel had nothing but good reviews except maybe for the location which we didn't even find to be that bad.
The hotel was very modern, design hotel and very clean with excellent service and staff. Hotel parking is possibile at a cost of 12 euro's a day but there was enough parking space outside, just in front of the hotel as well.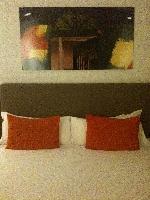 Holiday in Rome
If you're travelling by car this is the perfect hotel to stay at in Rome and otherwise bus facilities are just around the corner. At least you can way more than you pay for not like other hotels in Rome.