March 3rd, 2010
I made a trip to Rome, the amazing capital of Italy, and in one entire day I tried to see as much as possible from this unbelieveble city.
The first thing I visited was the Colosseum, which looked so different inside than what I expected from it, and was really impressive.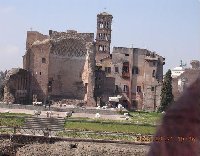 Photos of holiday in Rome,..
We also visited the different squares, fountain and the statues like Piazza Venezia and the statue of Marco Aurelio, the Arch of Constantine, the Fori Imperiali and of course the Trevi Fountain which was surrounded by a huge crowd trying to make their pictures and through in a lucky coin.
On a different trip to Rome I also visited the Vatican and even climbed to the top of the chapel which was pretty exhausting.
It's like climbing the stairs of Piazza di Spagna but then worse. In the end the panorama is amazing though and really worth the effort. Rome is just amazing city!