January 25th, 2012
One of the restaurants in Rome that I would like to suggest in the centre is Orso 80 a great trattoria, or hostaria like the sign outside the restaurant read with real italian food.
They had great found, excellent service and we were given bread and fritters from the owner which was really generous.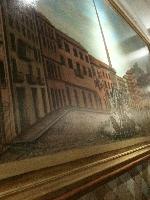 Travel Rome
I added some pictures of the lobster spaghetti which we ordered in two and was truly delicous. Right in the centre of Rome Orso 80 is great if after dinner you want to go for a stroll and walk over to Piazza Navona and enjoy the nightlife!