April 4th, 2011
Earlier this year I also went to Rome with a couple of friends, just to enjoy a little holiday. Rome is the perfect city if you ask me and especially in the historic centre there's just so much to see.
We had a great time and a lot of fun flirting with the carabinieri police officers, shopping and of course eating our way through Rome!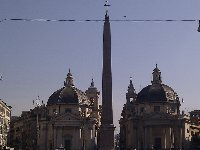 Tourism Rome
We had some amazing pizza near the Colosseum and also discovered a great bar not too far from there where we could take a break from our Piazza del Popolo to Piazza Venezia walk.
Take at least a few days for sightseeing as Rome is huge and only to see all the fountains and squares one day would never be enough.
We also had lunch at Campo dei Fiori which is the perfect place to hang out at night and meet other young people as there are a lot of nice bars and pubs located on and in the narrow streets leading to the quare.