November 9th, 2010
In October me and my husband went on a holiday to Rome, the capital city of Italy and probably one of the most impressive places within Europe.
The historic centre of Rome was the place we could call our home for seven days and did we love it!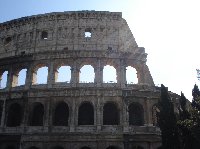 Where to go in Rome
Eventhough Rome has a lot of interesting neighbourhoods you could easily fill a one week holiday just by exploring the centre with its many pittoresque streets, mindblowing monuments and impressive remains.
Finally I got to see Roman masterpieces like the Colosseum and the Fontana di Trevi, sites every self respecting human being should visit at least a dozen times!
After three days of sightseeing by foot and public transport, which by the way was perfect for us and especially the metro will take you anywhere in a second, from Rome Termini Station to right under the Spanish Steps, the entrance of the Villa Borghese Park or in front of the Collosseum, we decided to rent a real vespa scooter. The most fun I have ever had!
Yes, it was a little bit dangerous and we did question our decision to rent a motorino but in the end we made it. It was so cool to drive along the Fori Imperiali road in the chaos that dominates Roman traffic.
At night we headed to Trastevere where parking can be quite impossible so a scooter or a taxi is the best way out. This is a really good spot to have drink or dine all'italiana and really breath in the dolce vita that is lived on every corner of this city.