March 29th, 2010
Travelling from Port Alfred to Hermanus, stopping along the way.
Our first stop was Schotia Safari Park - arriving mid-afternoon, we had a drink then off for our first drive with the game warden and four other guests. We saw giraffes, lions, many types of buck, wart hogs, zebras, crocodiles, rhinos, and hippopotami, during our visit. We chose to stay in the thatched cottage style accommodation- simple style with oil lanterns, went to sleep listening to the lions roar and awoke to hear the same, a fantastic experience and one we will never forget. We had three safari drives - afternoon, evening and early morning. We were very well catered for and can highly recommend this privately run park. We would go again.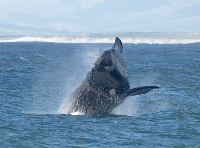 Whale watching at Hermanus!
The next day we drove into Addo National Elephant Park to see the elephants and were delighted at the sight of so many, lots of baby ones too. We also saw many wart hogs, and zebras here. We spent the next couple of days in Jeffreys Bay, using this as a base to visit St.Francis Bay – a great place for golfers as it has two golf courses. At St.Francis Point, we spotted a very young Jackass penguin on the rocks and visited the lighthouse which is a rescue centre for penguins. From here, we travelled onto Oyster Bay which has a wonderful beach.
We set off the next day passing through Tsitsikamma where we were lucky enough to spot a very large baboon sitting on a fence at the side of the road, and later three eagles soaring above us, such a beautiful sight.
We drove along the highway passing Plettenberg Bay - great photo opportunities of the fabulous beaches here, and where we were booked in to stay on our return trip. We then came to Knysna, a very attractive harbour and waterfront with lots of bars/restaurants and boutique style shops.
We reached our accommodation destination at Sedgefield, and were highly amused to find guinea fowl dropping by on the hunt for a free meal! We were also delighted to observe from our temporary home the numbers of different birds landing in the garden, including the Olive Thrush and the Cape Weaver. We had a trip out on the lake and were fortunate enough to see a Sea Eagle sitting in a tree, would have been even more exciting to see him in flight - but perhaps next time!
From our base at Sedgefield we visited Victoria Bay where there are lovely rock pools, sand and surf, and then onto Herolds Bay, this was a quieter and more attractive beach with a small promenade. Finally on this day trip we stopped at Mossel Bay where we walked out to the point and lighthouse then had a walk on the beach at Little Brack River, and before returning we had a very enjoyable fish meal at Ocean Basket. This chain of restaurants can be found in many towns and shopping malls and is extremely good value for money.
Our final trip out from Sedgefield found us visiting Knysna and climbing up to The Heads. The views from here are truly amazing and a place not to be missed, another fantastic photo opportunity.
The next day we were on our way to Hermanus, our final stop westwards. We were staying at yet another very comfortable guest house (they are amazingly good value for money and we were never disappointed by the high standard on offer). From Hermanus we were able to spend a wonderful day at Betty's Bay and Stoney Point where we were able to laugh at the antics of the thousands of Jackass Penguins in the sea and on the shore - you can even see them sitting on their eggs. The boardwalk allows you to look down on them as they shuffle along on their daily walks up to the rocks.
These rocks are homes to another South African creature - the Rock Dassie, these animals are quite small, about the size of a wombat and although they appear to be rather shy we were able to take a number of photos of them. We were also able to see cormorants and many colourful lizards on our visit to Stoney Point.
Hermanus itself is very interesting, full of small shops and arcades, outside markets and many bars and restaurants. It has a lovely grass area in front of these eateries and we were lucky enough to be entertained by a steel band while there.
On our return trip we stayed a couple of days at Plettenberg Bay where we visited Birds of Eden - well worth seeing and you can combine this with Monkey World right next door – we would suggest you allow a day for seeing the two. We only had time for the birds and will never forget the amazing colours of them flying around the natural vegetation. There are great photo opportunities as the birds are fed from easily seen bird tables.
Through the hospitality of some South African friends we spent a number of days staying at Port Alfred which has amazing beaches. We had a trip up the Kowie River on their boat, and even a fishing trip out on the Indian Ocean. Port Alfred should be another stop on your itinerary.
South Africa's coastline is so diverse and there are so many different experiences to be had travelling the Garden Route, we had a great time and can't wait to visit this wonderful country again.