August 23rd, 2011
The Hluhluwe-Umfolozi Game Reserve is located in the province of KwaZulu-Natal right and offers some of the best game safari tours in South Africa where you will be able to encounter all the Big Five Game.
KwaZulu-Natal is a province in Zululand and lies in between South Africa and Swaziland with Durban being the largest city. I travelled with my wife and our two kids and we spent an incredibile holiday here.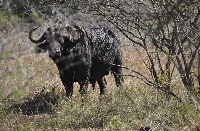 Travel Experience KwaZulu-Natal
We did several safari tours throught the Hluhluwe-Umfolozi Game Reserve which is the main tourist attraction to visit near Ulindi and will leave you breathless with its endless plains and captivating wilflife.
We also stayed in Ulindi at the Umuzi Bushcamp which was a great encounter with Zulu culture and traditions. From Ulindi we made several trips and also entered Swaziland to the north. The photos in my gallery will show you some of the moments we lived on our safari tours and I hope you will like them just as much as we did!