September 27th, 2011
On that same route you will find Oudtshoorn which on its own marks the beginning of a new itinerary, the Route 62 wine route. Besides being known for its great wines Oudtshoorn has some other nice tourist hightlights.
I visited the Cango Caves at the foothills of the Swartberg range and the steep rock formations really challenged me but the caves were beautiful.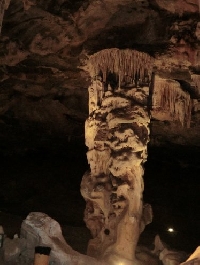 Where to go in Oudtshoorn
A good tip: On the road leading to the Cango Caves you will find the Cango Wildlife Ranch which is awesome.
They have all kinds of great animal displays and Cheetahland is really worth the ride to the park. You will be able to get a perfect look of unique big cats like the white lion which you would never encounter otherwise. But there is so much more to do and see like get your picture taken with a cheetah and watch some of their great shows like the Crocodile Cage Diving Show.
Another visit near Oudtshoorn which will be great if you are an animal lover or again if you plan on travelling with children is the Highgate Ostrich Show Farm where you can feed the birds and observe the breeding process of the ostriches.