April 3rd, 2010
I visited Mesagne, in the southern province of Brindisi for a project I was working on during my graduation.
I was able to witness the local festivities during the procession of the Blessed Virgin Mary which was a great experience and it was really surprising to see how the town came to life!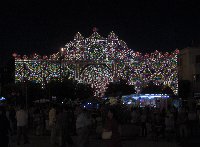 The Basilica del Carmine in..
The streets were decorated with light in all kinds of bright colours and the sqaure in front of the Basilica del Carmine was filled with people.
In the main street there were all kinds of stands selling everything from candy, jewelry and souvenirs to local products.
For the kids there was a large lunapark with all kinds of attractions like the giant wheel from where you could look out over the town.
It was an amazing evening and a great way to experience a different side of life in Puglia and mingle with the locals!