June 17th, 2010
About a year ago I went on a holiday to Bali Indonesia with a friend. I had visited some other countries in Asia visiting Thailand, Cambodia and Laos and most people I talked to during those travel experiences had been to Indonesia as well and said it was just as beautiful.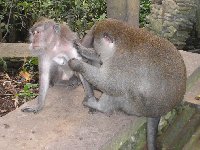 We flew with Cathay Pacific Airlines to Denpasar in the south of the island and where we would stay during our holiday in Bali.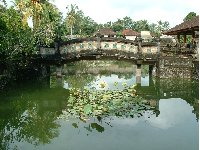 Travel Blog Denpasar
The hotel was very nice and eventhough we were just with the two of us I think it would be very suited for a holiday in Bali with kids or a holiday with the family as well.
The best time to go on a holiday to Bali would be between May and September when the rainy season has finished. In Bali there are no big season changes eventhough the rainy season allows an easier access to certain rivers from December to February.
We went in May so the dry, and high season had started and had the best time. There are many things to do in Bali and so many interesting places where to go and visit.
For example we visited the Mother Temple of Besakih, or Pura Besakih, which is the most important Hindu Temple in Bali and a beautiful thing to see. Besakih is located in the east of Bali like Ubud, another touristic drawcard where to go for the tasty Indonesian cuisine and friendly people.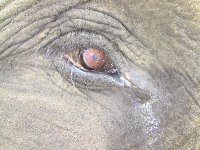 Travel Blog Denpasar
Also around Ubud there are several beautiful temples, ruins and today also a lot of luxury resorts for tourists wanting to spend a luxury holiday in Bali which is booming as a top travel destination.
Other travel tips for Bali would definitely include a visit to the Mountains of Munduk to the north of Bali with its gorgeous rice fields and Munduk Waterfall.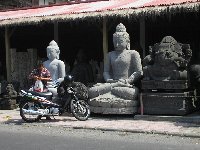 Another tip I would want to blog about because it was a great experience for me was the visit to the Bali Elephant Camp in Carangsari, in the center of Bali, on the Ayung River and in between a stunning green landscape of rice fields and jungle. The elephant ride in Bali made our holiday perfect and I could blog on about it forever but I guess there's too much to tell!
We also visited the Tanah Lot Rock which is located north west of Denpasar and the temple of the Pura Tanah Lot which is placed on top of that rock formation. More travel tips would include a visit to the Sacred Monkey Forest Sanctuary, or the Padangtegal Mandala Wisata Wanara Wana, in Ubud.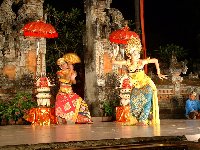 We did some Ayung River Rafting at Carangsari as well and had a full day tour. The best thing about our holiday in Bali was that it was so easy to get around the island, either by island tours or by car or motorbike. We rented motorbikes which was awesome and had a great laugh about it. I wouldn't say Bali is a cheap destination but life isn't all that expensive and it will definitely be a vacation to remember!