August 3rd, 2010
Chala is a small village on the road between Nazca and Arequipa which will be worth a stopover because of its beautiful coastline and panoramic views over the South Pacific.
It's no wonder that Chala carries the Peruvian name for Coast as the area is known as a haven for wildlife lovers in search of sea lions and sea birds.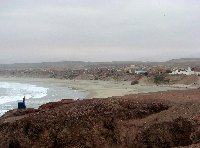 Trip to Chala
At the side of the road you'll also find a number of Apachetas, little piles of stone rocks dedicated to the mountain Gods.
After a little pit-stop in Chala where we bought some fruit we continued our trip to Arquipa and left this beautiful and dramatic scenery behind us.