September 16th, 2011
In the province of Ica you can find the Paracas National Reserve which includes the Paracas Peninsula and a beautiful collection of Peruvian marine life.
The best way to explore Paracas will probably be by boat as you can get a great view of the sea lions resting on the cliffs or even a dolphin swimming along with the streams of the vessels and boats.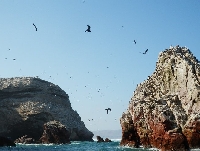 Vacation in Paracas
We also spotted a lot of pelicans and other birds and even a group of penguins which was really special.
Paracas is home to the oldest marine reserve in Peru and lies about 270 km south of Lima so you could travel by bus or own transportation which is probably the best possibility if you want to see as much of Peru as you can while you're on holiday.